ESPjr is an original retail brand of smile-filled, sunshiney,
Caribbean-themed products for children everywhere.
Our mission is to use play-based learning to encourage and engage children as they discover the diverse environment, festivals, culture, sounds and tastes of the Caribbean. ESPjr is committed to fostering the next generation through telling authentic Caribbean stories.
Bim and Bam: The Adventure Series
Bim & Bam™ is an animated adventure series for children, set in the Caribbean.
Twin siblings Bim & Bam have free reign when it comes to adventure – and there are a million things to get your imagination working overtime when exploring an idyllic Caribbean island! The naturally curious 5-and-a-quarter-year-old twins (Bim is the girl; Bam, the boy) are on their first trip to their parent's birthplace – the Caribbean. Who would have guessed that tiny islands could be so chock-full of big fun beyond just sea, sun or sand? The potent pair relies on instinct, curiosity and teamwork to figure things out as they explore the amazing world around them. Thankfully, a combination of their bright ideas, some superhero tools and a few good friends makes nothing impossible. To Bim & Bam, life is the greatest adventure: they are always expanding their boundaries and mastering new skills with every fun-filled experience.
Bim and Bam: The Adventure Series™
Format: Animated, Tv Series 13 x 22 min
Creator: Jeunanne Alkins
Written by: Janine Mendes-Franco
Lead character design: Vivian Nguyun
Animal Character design: Omari Hutchinson
[Story bible] Background artist: Sayada Ramdial
[Trailer] Storyboard, Background & Secondary Character Design Artist: Willie Castro
[Trailer] Animation: Ansar Sattar / Willie Castro
[Trailer] Production: Trinitoons
[Trailer] Soundtrack: Keron "Sheriff" Thompson
 
For further information or to request scripts contact: Jeunanne Alkins / bimandbam@espjrisland.com / 1 868 289 2089
The first production "Island Babies" is a series of screenprinted t-shirts, features characters such as the endangered leatherback turtle, coconut, blue crab and snowcone through childlike eyes. Bold colours, strong graphics, and a confident 'Caribbeanness' make this line of clothing for children – from newborns to seven year olds – particularly eye catching. The brand strives to make children conscious of the need to protect our endangered species and nurture pride in cherishing our culture and environment. Other products in development include an animated tv/web series, books and activity sets.
ANTIGUA
Sandals Grande
Saint John's Dickinson Bay
BAHAMAS
Sandals Royal Bahamian
Cable Beach, Nassau
Sandals Emerald Bay
Great Exuma
ST. LUCIA
Sandals Grande
Pigeon Island Gros Islet
Sandals Regency La Toc
Millenium Hwy, Castries City
Sandals Halycon Beach
Shockley Street, Castries City
TURKS AND CAICOS
Beaches, Turks and Caicos
Lower Bight Rd
TRINIDAD
Caboodle Gifts
Corner Perigod and Long Circular Road
Rainy Days Gift Shop
Ellerslie Plaza
The M Store
Piarco Airport Int'l Duty Free Lounge
Paperbased Book Shop
Normandie Hotel
The Shop
Normandie Hotel
Live Green
Belle Smythe Street, Woodbrook
The Baby Club
La Romaine (Next door to Simple Spaces)
D'Caribbean Culture Shack
Oropune, Trincity
TOBAGO
Peeping Fish
Shoppes at Westcity, Milford Road
Bang Bang Home
Shoppes at Westcity, Milford Road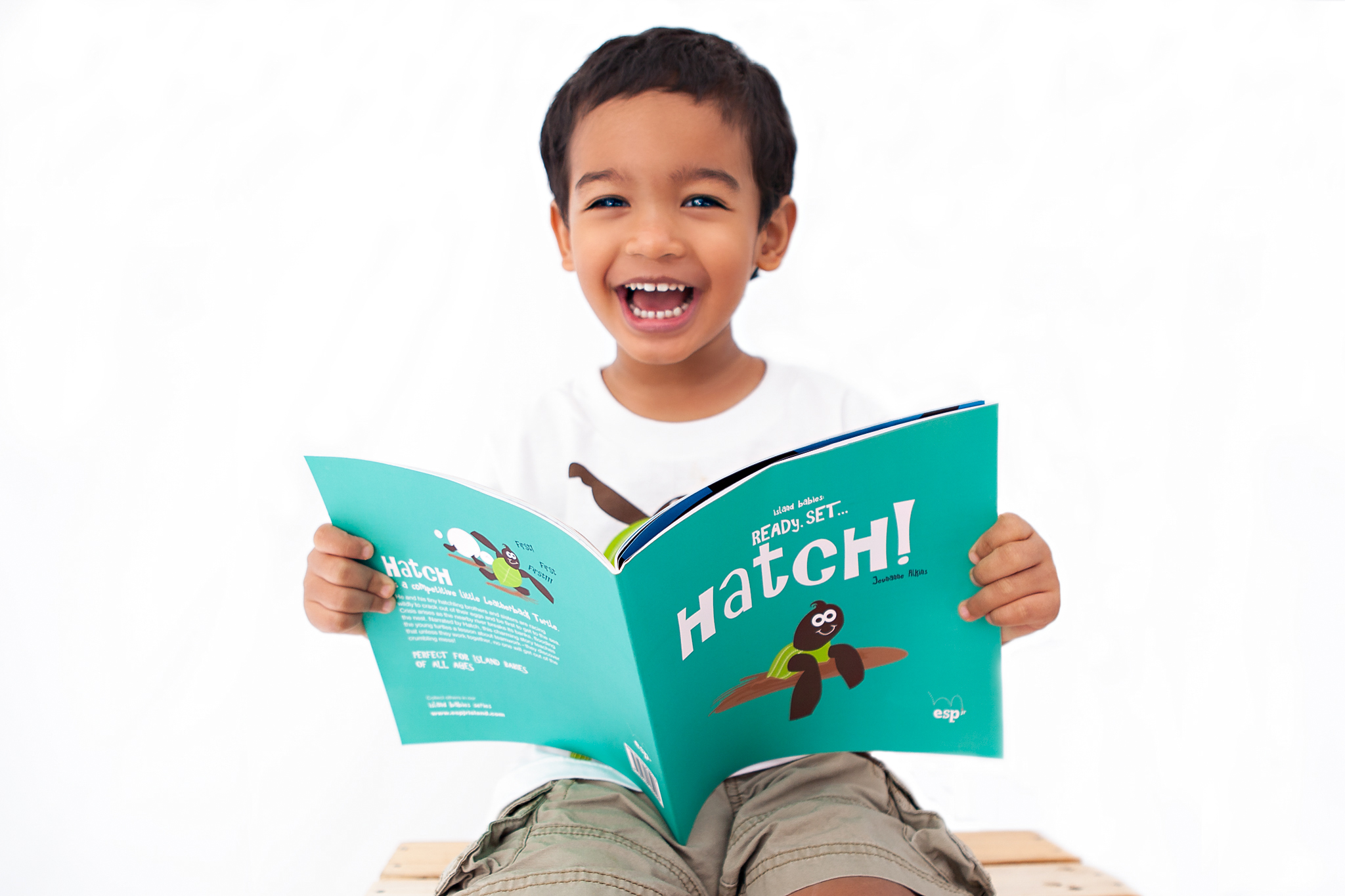 Picture book - "Island Babies: Ready.SET..HATCH!"
Available now
"Hatch is a competitive little Leatherback Turtle. He and his tiny hatchling brothers and sisters are racing wildly to crack out of their eggs and be first to get to the sea. Crisis arises as the nearby river breaks its banks, flooding the nest. Narrated by Hatch, this charming story teaches the young turtles a lesson about teamwork - they discover that unless they work together, no one will get out of the crumbling mess!"
The ESPjr Island Babies series uses character led lesson-based storytelling to entertain readers while simultaneously teaching about the culture and environment of the Caribbean. The first in this 4-part series, "Island Babies: Ready.SET..HATCH!" is a charming picturebook featuring the leatherback turtle "Hatch," geared for international and local audiences alike - ages 0 and up.